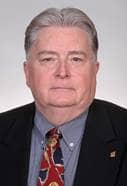 For the past 11 years Ray has been principally tasked with providing Loss Control support for Markel's underwriting efforts including Products Liability, Construction, Environmental and high risk engineering such as dams, subsidence reviews for construction projects and complicated Products Liability accounts such as Chinese drywall, medical device and pharmaceutical accounts; while, assisting other underwriting units, claims and other departments. Ray has three undergraduate degrees from Golden Gate University, CA and Park College, MO, and an MBA from Lewis University, IL,
has attended several additional universities; is a member of NFPA, ASQ, ASSE, SME, and, holds many professional and jurisdictional certifications and designations. Prior to joining Markel in 2006, Ray held positions at HSB, State of Texas, Kemper, St. Paul, Reliance National, and Zurich Services Corporation.
Ray is a Member ASQ, a Regular Member American Society for Quality Control, a Voting Member National NFPA and, a Professional Member ASSE. Mr. Howard is the author of numerous articles, procedures and other insurance industry specific materials including magazine articles, technical articles, booklets, bulletins, evaluation tools and techniques (i.e. product liability evaluators, exclusions, endorsements, etc.). He has been published in "National Underwriter" magazine and "The Report" Magazine and, has been a guest speaker at various national industry conferences and meetings both in the United States and Canada. He has been interviewed by professional organizations on occasion and asked to head various sessions with industry groups and manage Loss Control for high profile accounts in the U.S. such as United Space Alliance (Space Shuttle Program) and mining operations in upper Canada. Speaking opportunities have included Vermont Insurance Captive Association, U.S. and Canadian Roofers Association Meeting, Prince Edward Island, Canada. He has taught formal industry classes in both the United States and Canada and has traveled extensively internationally including throughout Europe and Asia.Ray has attended numerous additional technical schools and other formal courses Post Graduate and Professional; and speaks German. Ray can be contacted at +1.732.450.8733 or Ray.Howard@markel.com.