Introducing more ways to put the power of philanthropy in the hands of employees.
Published on February 23, 2022
---
For over 90 years, Markel's employees have exhibited the Markel Style by giving their time and money to local charities and causes. Many of Markel's insurance employees—approximately 740 in the US and Bermuda in 2021—also increased the impact of their giving by leveraging the Markel Matching Gifts program.
Complementing Markel's corporate and local office giving, the Matching Gifts program adds a company match to an employee's donations to qualifying non-profit organizations. In the US and Bermuda, employees can use Markel's Matching Gift program to triple their donation dollars to causes that they personally support.
"Through its match program, Markel allows associates to select the issues and passions that they care most deeply about, and then helps their dollars go further," noted Jessica O'Neill, Markel's Director, Associate General Counsel, Claims.
"My donation to one of my favorite charities, Mosaic Family Services, was enough by itself to provide one survivor of human trafficking or abuse with legal services. Now, with Markel's triple match, four survivors can receive those services."
New matching gift initiatives in 2021 for US and Bermuda employees
Participation among US and Bermuda employees in the Matching Gifts program rebounded in 2021 after a slight drop in 2020 due to COVID-19. The increased participation led to Markel donating nearly $1.5 million in matching gifts to 945 non-profits.
Employees last year used some of the matching program's new enhancements to multiply their charitable giving. One new feature gives employees the ability to have their charitable donations from a credit card simultaneously submitted for a matching gift. When employees make a US credit card donation of at least $50 to an eligible non-profit of their choice using the MyGiving platform, their Markel match request is then automatically submitted as well.
Using this one-step credit card match, nearly 120 employees made cash donations that resulted in Markel distributing almost $138,000 in matching gifts. Employees used credit card donations for multiple good causes, including Markel's global fundraising campaign for COVID-19 relief in India.
Another new program enhancement, Dollars for Doers, extends Markel's Matching Gifts program by allowing Markel employees to convert their volunteer hours into a matching gift. Each hour volunteered is worth $15 in employee giving. Once an employee has completed at least 3.5 volunteer hours at an eligible non-profit, every volunteer hour an employee submits for non-working hours, while on vacation, or on a company holiday can be converted to a corporate donation as part of the Matching Gifts program. Much like a cash gift, the value of these volunteer hours applies to an employee's annual donation limit per employee.
In the first six months of the Dollars for Doers program, Markel received 34 volunteer match requests for a total of 1,600 hours volunteered and distributed over $40,000 in matching gifts to 35 non-profit organizations.
Employees like Kim Harrison, Office Manager and Executive Assistant at Markel, used Dollars for Doers to support their favorite charities. Kim submitted her hours of volunteering at Our Father's Children (OFC), an organization that provides free week-long summer camps to children ages 6-11 who are victims of abuse and neglect; many of these children are also in the foster care system.
"I have been involved with this wonderful organization for over 15 years and have spent eight summers volunteering at one of their summer camps called Royal Family Kids Camp," Kim stated. "It is life-changing for not only the children but also the volunteers. Thanks to Markel's Dollars for Doers program, I was able to submit 30 volunteer hours from my week at camp last year, and OFC received a substantial donation that will allow more children to go to camp this year."
Markel's volunteer fair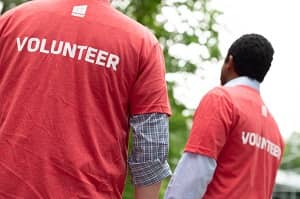 Employees in Markel's Richmond headquarters found new volunteering and donation opportunities for using the Matching Gifts program at the company's second-annual volunteer fair in November 2021. Held in honor of National Philanthropy Day, the fair gave employees a chance to learn more about specific causes making an impact in their communities.
Eleven Richmond-based non-profits such as The Read Center, Big Brothers Big Sisters, and Shalom Farms participated in the event. Representatives from each charity shared their organization's mission, suggested ways for employees to get involved, and provided sign-up sheets for volunteering opportunities.
"The volunteer fair provided an opportunity to tap into my passion, which is community-based work," recalled Christian King, Markel's Digital Customer Journey Interaction Designer.
"I spent my entire lunch break visiting every single table and connecting with people through their stories and finding out why they're passionate about certain causes."
Thanks to an impressive turnout, the volunteer fair itself raised $400 through sales of raffle tickets and pizza slices. Markel donated the proceeds to one of the non-profits participating in the event, which was selected by random drawing.
Matching Gifts' international reach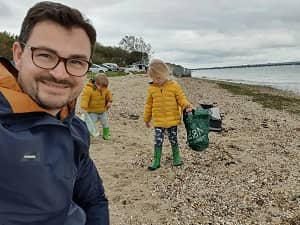 Markel International (MINT) employee's commitment to community was reflected in several fundraising campaigns that leveraged the Markel match to maximize their financial giving.
One fundraising effort was Markel's Big Clean Up Challenge, a week-long challenge in June 2021 in support of World Oceans Day. The challenge, which was launched by the sustainability sub-group within Markel's employee-led Community Network, encouraged employees to go outside—in whatever capacity they were able to amid varying COVID-19 restrictions—and collect waste from beaches, riversides, parks, or canals in their local areas to reduce plastic pollution within their communities.
This challenge was created to support Seven Clean Seas, an organization that aims to preserve the marine environment by ridding the ocean of plastic for good with a combination of conservation, innovation, and education.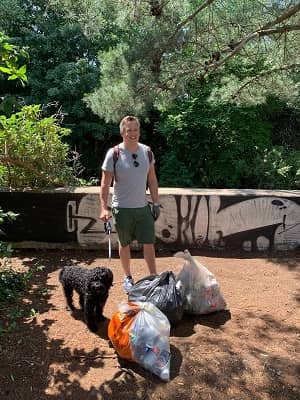 By partnering with an offsetting company that is also looking to stop plastic pollution at its source, Markel's efforts will have a much greater reach and positive impact on local communities, the ocean and the future of its vital ecosystems.
In response to the incredible feedback and support, Markel made a £10 donation per Markel International employee plus £15 per bag collected by employees, resulting in a total donation of £10,000 to Seven Clean Seas. The total donation was directed at Seven Clean Seas' Riau Archipelago project in Indonesia, a project that has recovered over 130,000 kilograms of plastic from the marine environment.
Markel also donated to Surfers for Sewage and the World Wildlife Fund on behalf of two employees who won the Big Clean Up's bingo game. The Bingo winners received the opportunity to select an environmental charity to receive the Markel match based on the amount of bags they collected during the challenge.
"Knowing that our fundraising efforts would be matched by Markel really made the Big Clean Up a success," recalled Ruth Gordon, MINT Livestock Underwriter.
"It was win-win for those involved as small steps taken by employees to clean up local green space led to a bigger global impact through the work that Seven Clean Seas did with the donation."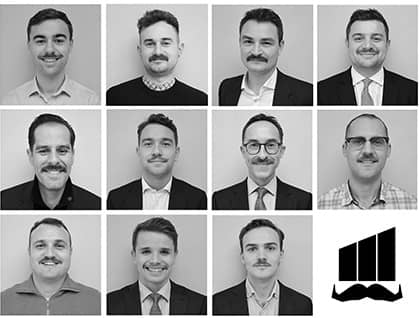 Months after the Big Clean Up, eleven UK employees partnered with five Markel Canada employees for a Movember challenge. Movember has become the leading charity changing the face of men's health. Funds raised by the organization are directed at more than 1,250 groundbreaking men's health projects across mental health and suicide prevention, prostate cancer, and testicular cancer.
In support of Movember, the employees formed two teams—Markel Mo's UK and Markel Mo's Canada—traded their vanity to grow a mustache for over 30 days. Growing mustaches helped the Markel Mo's raise awareness and funds for the men's health focus areas.
Markel Mo's UK raised £11,675, including £6,365 from individual and team donations and £5,400 from the Markel match. The Canada team raised $4,970 for Movember, including $3,070 from individual and team donations and $1,900 from the Markel match. In acknowledgement of both teams' efforts, Markel donated a lump sum of $15,000 to Movember.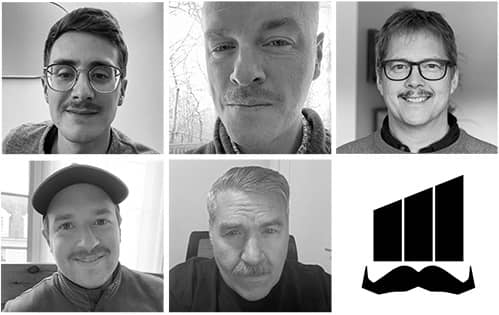 "The full impact of the pandemic is still being understood, particularly, the impact on mental health," noted Henry Gardener, MINT's Director of Legal and Chief Risk Officer, International. "People, especially men, struggle to talk about their mental health. Those handlebar moustaches were a great conversation starter for some deep discussions. We raised funds with the help of the Markel match to make a difference in mental health and suicide prevention."
Making a difference with matching gifts
Markel's Matching Gifts program continues to be a remarkable way for employees to make their philanthropy go further and for Markel to support the causes that its employees care about the most. Employees around the globe are eager to make a difference, knowing a modest donation can potentially effect significant change within their local communities.
"I know of no other company that provides a 3:1 match on charitable donations. It's a very powerful multiplier that enables organizations to provide additional valuable services," noted Brad Kiscaden, Markel's President and Chief Administrative Officer.
"For instance, over the past five years, Markel and its associates have raised nearly $300,000 for the Alzheimer's Association. That would not have been possible without both the generosity of our Markel associates and the generous Markel Matching Gifts program."
"As more employees leverage the Markel match, our global philanthropic efforts have a growing opportunity to leave a lasting legacy in the communities in which our employees live and work," said Mary Allen Waller, Markel's Global Director of Community Engagement. "We're excited that our matching gift programs are helping employees extend their charitable giving and increase their philanthropic impact. We hope to continually expand our philanthropic reach throughout our global community."