Even though the impact of hurricanes is largely unpredictable, there are ways you can prepare.
By better understanding the many concerns associated with such a threat, planning ahead and training your staff, you can better manage weather-related risks, like high force winds, storm surge damage and massive flooding.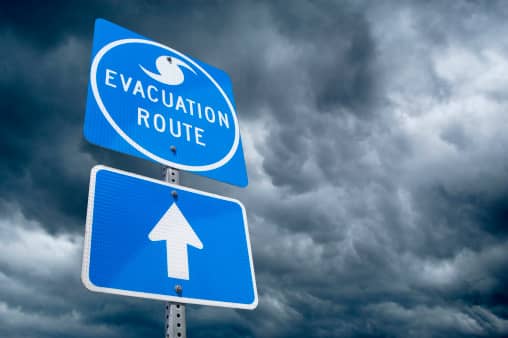 Develop a strategy
The best defense against a hurricane is being prepared and following issued warnings and instructions. When a watch is issued, closely monitor local weather reports, news stations, and the National Weather Service (weather.gov) to determine the direction of the storm and any advisory or mandatory evacuation orders from public emergency management officials. When deciding to close your facility, keep in mind the extended time needed to prepare your facility and for employees to evacuate. Staff should not be allowed to stay on site unless approved by local public authorities, and they can be protected from intense winds and potential storm surge flooding. To better prepare your facility consider:
Assess facility vulnerabilities and business continuity
Months before each hurricane season begins (June 1st – November 30th), you should assess the vulnerability of your facility to wind, storm surge, tidal surge, heavy rainfall and sustained wind speeds up to or in excess of 155 MPH.
You should assess your personnel needs and determine what additional staff will be required, and confirm the availability of employees. Allow employees time to prepare their homes for the storm and to safeguard their families. Keep in mind that traffic congestion will greatly increase the time necessary for travel – especially as the storm approaches.
Make sure your employee lists are up to date, so you can contact staff after the storm. Provide a telephone number for employees to call for information. If possible, arrange with local radio stations to broadcast information to your employees and inform your employees what station to listen to.
Protect, back-up and relocate vital records as necessary. Consider use of off-site or cloud storage.
Regularly inspect all fire protection equipment to ensure it is in full service.
Ensure documentation of your property, such as video recordings and pictures of buildings, business personal property inventories, are up to date and accessible in the event of an evacuation. Your agent is a great resource to understand what might be necessary to help with documentation, if you should need it.
As hurricane risk increases
The National Weather Service (NWS) will announce both hurricane watches and warnings and your organization should monitor them closely. A watch means that hurricane conditions are possible – but not imminent. A warning means that hurricane conditions are expected within 24-36 hours. Whenever the NWS issues a hurricane warning, Emergency conditions should be declared by your organization.
Arrange in advance for procurement of equipment, supplies, and contractors from firms located well outside the immediate area for cleanup, repair, and restoration of buildings, equipment and stock. Ensure that you have updated lists for each vendor. Establish mutual aid agreements with other company facilities outside the storm's potential impact area.
Physically check all emergency and communications equipment including generators, transfer switches, lighting, portable pumps and radios. Test all and ensure that generators will start automatically and power transfers properly. Check oil levels and fuel tanks and fill to capacity.
Address access to your site after the storm. This may require contacting public authorities for official identification badges to enter a restricted area. Identify vital records (papers, electronic data, etc.), make backup copies, and or relocate to a location not exposed to the hurricane or to a cloud storage service.
Protecting your property
As a hurricane is approaching, map the hurricane's progress and intensity. Monitor the National Weather Service to keep up to date on the storm's path.
Reinforcing and protecting structures
Identify any hazardous materials that could react with water and relocate outside the path of the storm or protect from contact with water.
Inspect roof edging strips, gutters, flashing, convering and drains. Remove anything from the roof that is not secured.
Strap or anchor any roof-mounted equipment such as HVAC units and exhaust fans to the roof structure (e.g., the joists).
Check for weak door and window latches and hardware or for insecure panel fastenings.
Check roof, floor and yard drains to ensure they are clear and unobstructed.
Cover exterior building make-up air or ventilation louvers by securely fastening a sheet of plywood to the inside of the opening. Remove after the storm has passed in order to provide adequate ventilation.
Fasten sheets of heavy plywood (or hurricane shutters) over exterior windows and doors to prevent breakage that will exacerbate wind damage to the roof system as well as allow water to enter the building. Do NOT block emergency exits.
Review and secure your grounds
Inspect exterior signs, supports, guy wires, and anchorages: secure, as necessary.
Check grounds and remove dead limbs, prop weakly rooted trees, clean up loose debris, and move all articles or equipment that can be picked up by high winds inside – if it is not bolted down, move it inside.
Relocate motor vehicles that cannot be moved inside as far away from the building as possible.
Empty trash compactor and/or dumpster; make sure any compactor is secured properly.
Clean out street catch basins and drains to prevent street flooding.
Fill all propane gas, fuel oil or other storage tanks (both above ground and buried) to prevent them from floating.
Protect electronics and other valuables
Conduct an orderly shutdown of computers, communications and other systems.
Disconnect nonessential equipment to protect from damage causes by power surges immediately prior to or following an outage.
Cover valuable electronic equipment, artwork, furniture, etc.
The potential for flooding should not be overlooked if your facility is located within a flood prone area. Storm surge is a catastrophic potential and if your facility is located in low-lying coastal areas, no one should be allowed to remain on-site. The heavy rains that accompany hurricanes can overtax street and storm drains that could lead to localized street flooding conditions.
Prepare for outages
Assemble supplies for the emergency response team including potable lights, batteries, portable radios / cell phones, bottled water, nonperishable food, duct tape, lumber and nails, roofing paper or heavy plastic sheeting, sandbags, tarpaulins, ropes, manual tools, chain saws, rakes and shovels.
Fill available portable fuel tanks (for portable power equipment) and store in a location protected from wind and flood.
Remind employees to fill the gasoline tanks of their personal vehicles since gas stations may not be able to open in the event of extended power outage.
Recovering from a hurricane takes time and effort. There are steps you can take to limit the effects of a storm and more quickly resume operations.
Filing a claim
In the event your area experiences a hurricane event, it is highly likely it will be monitored by your insurance agent and Markel.
Report any damage to your insurance company as required by your policy.
If your building is uninhabitable, paint your insurer's name and point of contact information (your name, temporary address, and the phone number to be used) on a wall or large board so the adjuster can find you.
Document damage to your building and its contents with photographs or video.
If possible, be present when the adjuster inspects your property.
Ensure safety
Determine the extent of any injuries, state of buildings, impairments of utilities, community services and conditions (such as roads, sewers, water, etc.). Report to management as necessary.
After the storm, also identify immediate hazards such as downed electrical lines, leaking gas or flammable liquids or other hazardous materials. Take extreme caution in the event that power lines are down. The area should be roped off to prevent unsuspecting people from contacting energized power lines. Notify the local electric utility company.
Secure the site. Lock doors and fences.
Control ignition sources if there is leakage from natural or propane gas or gasoline from storage tanks or vehicles. Notify public emergency management officials.
Inspect roofs (entire area and perimeter), roof-mounted equipment, walls, windows (outside and inside), doors and entire property.
If electrical or electronic equipment is exposed to water, keep it turned off until it has been dried, cleaned and its insulation resistance has been checked.
Inspect electrical and process systems and equipment for water damage before restarting.
Do not operate boilers until they have been inspected and tested.
Drain, clean and lubricate any machinery before testing. Contact the manufacturer, if possible, for recommendations.
Building back
Begin salvage operations as soon as it is safe to do so to prevent further damage.
Clean roof drains and remove debris from roof to prevent drainage problems.
Cover up openings in the building shell with plastic sheeting or tarpaulins.
Check foundations and piping.
Call key personnel and restoration contractors to start repair. Make sure safety systems are fully operational before work is allowed to begin.
Clean up debris and remove water.
Dry water-damaged areas and items with 24-48 hours to help prevent mold growth. Visit epa.gov/mold for more information.
Use fans to speed up the drying process, Do NOT use heaters, as they could damage insulation.
Contact local building inspection officials to determine permit requirements and rebuilding guidelines after a disaster.
Recall key employees necessary for restarting operation.
Resources that can help
Videos
Graphics and Social Media
More Information
additional References
Disclaimer: This content is intended for general information purposes only, and should not be construed as advice or opinions on any specific facts or circumstances. This content can't be assumed to contain every acceptable safety and compliance procedure or that additional procedures might not be appropriate under the circumstances.
assisting you through the unexpected
Report a claim

We have dedicated and empathetic claims professionals with specialized knowledge in their product lines.

Claims

Find a sense of comfort knowing you have a team working in your best interest to help you get the most from your insurance protection.

Risk Navigators

Markel's Risk Navigators provide a comprehensive understanding of subjects relevant to our insureds in the construction, environmental, primary casualty, and products liability categories.
If you have recently been impacted by a catastrophic event, we are here to help.