Setting the foundation to build world-class underwriters within Markel's insurance business.
Published on August 9, 2022
---

As companies struggle to retain their workforce, Markel remains focused on developing the next generation of underwriters. Helping Markel attract quality talent and meet the company's business objectives are core aims of our underwriting training program (UTP)—a comprehensive technical program that prepares entry-level professionals in the US and Bermuda to become successful underwriters at Markel.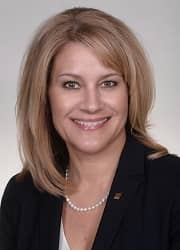 "UTP has always been an important component of our training and having the ability to develop our own talent is critically important," said Sarah Gavlick, Markel Specialty Chief Territory Officer, East and the Underwriting Training Program Executive Sponsor. "This year, it's even more critical as the war for talent continues. As such, we have tripled the size of our program and revamped the content to focus more on developing the underwriters' technical skillsets."
Program curriculum
Markel's underwriting training program offers a skills-based curriculum of in-person learning sessions, on-the-job training, and mentoring to guide trainees through all aspects of underwriting. Updated in 2022, the curriculum ensures that trainees complete an intensive program aimed at developing a solid foundation of technical skills for the trainees.
"The curriculum is focused on teaching trainees about Markel, our various products, our underwriting processes and philosophy, and preparing them to be exceptional, productive underwriters for Markel," noted Lara Nichols, Managing Director, Strategic HR Business Partnerships, whose team partnered with the Specialty business to make enhancements to the early careers program. "The faculty comprises our very own leaders and experts from across Markel Specialty, which means they will learn from the best."
As part of the program, trainees get broad exposure to Markel's business operations and the insurance industry. They attend sessions on building technical and professional skills. Plus, trainees have the opportunity to network and attend social events with other participants as well as Markel's senior leaders.
"My main key objective is to see each of them become strong production underwriters—begin to grow from a technical perspective as well as groom their soft skills so that they are ready to begin contributing to their respective regions. As well, I would like to fully engrain our trainees into the Markel Style so they have an appreciation for how it impacts our business decisions on a daily basis," Sarah explained.
To help position them gain a solid understanding of underwriting strategy and approach, the trainees are immersed in the program with their respective Product Line Leaders. This learning experience continues with on-site training at their local office, including developing sales, negotiation, and relationship skills.
"We've strived to build a market-leading foundation of curriculum to help our trainees advance their underwriting knowledge, positioning them to have a bright future at Markel," said Kristin Towse, Markel Specialty Executive Underwriting Officer. "The program structure helps ensure that the trainees have the most robust, well-rounded and engaging technical training possible."
Jane Peterson, Markel Specialty's Chief Underwriting Officer, added, "As an underwriting company our greatest value is having deep technical underwriting capabilities. This involves continuous training. The UTP provides broad and deep foundational training that sets up underwriters for career long success."
Attracting talent from outside of the insurance industry
In 2022, program participation has tripled. Contributing to UTP's growth is the program's inclusive nature, with an increased number of trainees possessing backgrounds outside of insurance.
"A program like UTP is a differentiator for the talent that we're going after," said Lara Nichols. "This includes casting a wider net for talented people with different educational backgrounds. So we've built into the program ways for someone who may have majored in finance in college, for example, instead of risk management, so they can get up to speed and be an equal participant in the program."
Charlotte Myers, Markel's Global Head of Technical Training, noted that the addition of trainees with a range of degrees outside of risk management and insurance has provided UTP with more diverse perspectives, reflecting Markel's aim to ensure the company has an increasingly diverse workforce.
"We want to encourage a broader diversity of thought across the business at Markel, but we also want to train people consistently to ensure they develop core skills and knowledge. Bringing that diversity of thought to the company is important when we consider the skill sets of the underwriter of the future," she explained.
Graduates outside of the insurance field have excelled in transitioning to an underwriting career. One Markel property and casualty underwriter was a marketing major and former video and data analyst for a Major League Baseball team before joining Markel's Binding department in 2021. The underwriter credits the guidance of a former Markel Specialty Regional President for changing the trajectory of his career path.
"The Regional President and I had lunch to get to know one another, and he thought I'd be a great fit for Markel," the underwriter said. "UTP helped give me the confidence to perform every single day. Being able to hear from upper management and learn from their experiences has definitely helped me so far. This experience helped shape me to be a better underwriter and prepare me for handling my everyday responsibilities."
Employee involvement
Helping UTP stand out among similar programs within the industry is the level of employee involvement. Employees at various levels within Markel have a commitment and engagement to the program, whether it is leading a training session or providing hands-on training at a local office.
Part of that support consists of a "relocation buddy" for trainees who have moved from one location to another to participate in UTP. A relocation buddy helps their assigned trainee adjust to their new surroundings, especially those who are living away from home for the first time.
"We feel that it's important that those trainees have someone who can help them transition to their new city, show them around the office, and grow their network," Charlotte explained.
"Making them feel welcomed at Markel is just as important as the technical piece of the program. If you have a happy employee, then they will thrive as underwriters."
Senior leaders at Markel have also dedicated a significant amount of time to the program. Product Line Leaders, for instance, have a direct hand in helping the trainees. Product Line Leaders serve as mentors and engage trainees through case studies, independent work, and graduation preparation.
One 2021 UTP graduate praised her three trainers and mentor for providing guidance while she participated in the program and following her graduation.
"I was incredibly lucky to be set up with three trainers and a mentor," said the graduate, who now works as a primary casualty underwriter at Markel. "My mentor brought a different perspective on how to capitalize on the underwriting systems and resources Markel had to offer. My mentor was very engaging while speaking about her product line. She demonstrated how to present Markel and our values to our clients. Since I had three trainers, they also became mentors of sorts. One of my trainers was a recent UTP graduate and became a fast friend and role model. Each trainer and my mentor exhibited the Markel Style, always asking how they can help me and constantly encouraging me to reach my personal potential."
Building world-class underwriters
Program sponsors expect that UTP graduates will come out of the program with a well-rounded technical knowledge of the underwriting profession and a peer group who they can network with for the rest of their career. They also hope graduates will support the continuous growth of the program by encouraging others—both inside and outside of the insurance industry—to recognize that UTP could be the start of a long, successful career at Markel.
"The Markel Underwriting Training program was a tremendous opportunity to start my career, learn from the best in underwriting, and embrace the Markel Style," said a Markel Specialty Senior Director who has worked at Markel since graduating UTP in 2002. "I'm forever grateful for the investment Markel made in my career. With Markel, we're all winning together."