The growth of modular construction brings a new risk management landscape.
Published on February 2, 2022
---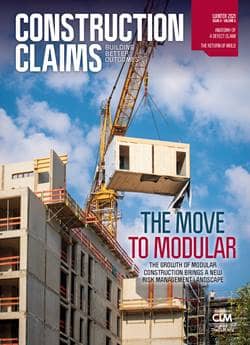 The growing use of modular construction brings many advantages, but also new risk management implications for builders and others in the construction industry. An increasingly popular alternative to traditional stick-built construction, modular construction is growing especially rapidly due to the increased need for housing arising from the COVID-19 pandemic and other long-term factors.
Improved efficiency, shorter build times, and lower costs will help modular construction gain in popularity. Builders and carriers must be ready to respond to this wave of new construction and what comes with it. A review of the process and its many differences from traditional construction can provide a better understanding of these implications.
Phyllis Modlin, Executive Claims Specialist, authored the cover story for the 2021 Winter Issue of Construction Claims magazine, which discusses this trend and what builders and carriers should know moving forward.