The Dive In Festival gives attendees an open platform to share best practices on diversity and inclusion, so they can learn from one another and become better allies for change in their respective organizations.
Published on December 1, 2021
---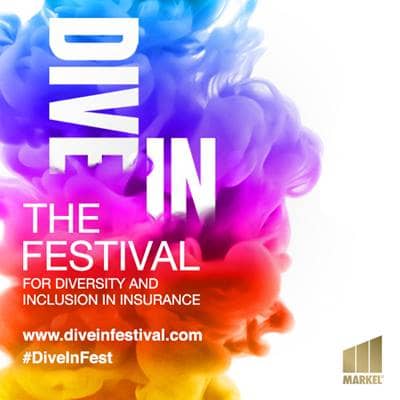 As Markel continues to build a working environment where everyone can be their authentic selves every day, the company supports a global emphasis on diversity and inclusion (D&I) that will help drive such a positive environment for the entire insurance industry.
Part of Markel's global insurance operations' D&I focus involves serving as an annual Global Festival Partner for the Dive In Festival, an award-winning international event that started in 2015. Dive In highlights the importance of creating inclusive workplace cultures within the insurance sector. The festival gives attendees an open platform to share best practices on diversity and inclusion, so they can learn from one another and become better allies for change in their respective organizations.
"For the past five years, Markel has been one of the Dive In Festival's highest-level sponsors," said Trevor Gandy, Managing Director, Talent, Diversity and Inclusion at Markel. "We've worked hard to have a positive influence on the festival itself, and we've encouraged Markel colleagues to get involved during the week of events."
"With more than 31,000 attendees and registrants in over 100 countries participating this year, Dive In provides an opportunity for industry professionals to connect and empower each other around the world," remarked Sue Davies, Markel's Chief Human Resources Officer. "Dive In continues to grow each year and reach new audiences, reinforcing the global scope of the festival and helping elevate Markel's position as a D&I leader within the insurance industry."
Multiple people from Markel planned and led the sessions
Markel's influence and involvement were evident at this year's Dive In, which featured the overall theme "Active allyship." Many employees supported the curation and delivery of 17 events for Dive In's largest global audience to date. Such events—145 in total with over 580 speakers—covered broader themes like mental health, racial equality, and LGBTQ+.
"We had a very active team of individuals at Markel who were excited about developing the sessions because they were based on areas that they were passionate about, such as workplace capabilities and flexibility, mental health, LGBTQ+, race and ethnicity, and corporate social responsibility," Trevor said.
Of the 17 events Markel supported this year, three were hosted by Markel insurance employees:
Trevor hosted an event addressing the lack of insurance accessibility for lower-income people and people of color, and exploring how industry policies and actions impact those groups.
Nick Line, Chief Underwriting Officer for Markel International (MINT), who is a member of Markel's Global D&I Steering Committee and also the Executive Sponsor of MINT's Inclusion Network, discussed race and mental health.
Joe Bizzarri, Markel Senior Claims Compliance Analyst, who is a member of Markel's Claims D&I Committee and Committee Lead in the company's LGBTQ+ employee resource group, PRISM, led an informative session empowering attendees to be stronger allies for the LGBTQ+ community.
"I had the opportunity to participate in the first ever Dive In Festival LGBTQ+ planning committee, and to host an event that was attended by over 400 participants across 20 countries," Joe recalled. "The event's main speaker, attorney Joni Watke, gave a wonderful presentation. She introduced us to her transgender daughter, while also explaining all the various components that make up one's gender. In keeping with this year's Dive In Festival theme of allyship, my biggest hope is that people left the event with a better knowledge and understanding of what it means to be an active ally, and how to become one.
Complementing Joe's contributions on the LGBTQ+ planning committee, several Markel employees represented the company on Dive In planning committees specific to their geographic region. Those employees included Mia Finsness (Bermuda), Markel's Managing Executive, Global Casualty Underwriting and Claims; Trevor Gandy (US); Dave Crozier, Divisional Managing Director for Canada; and Deepika Mathur, Managing Director, India.
Kate Gardner, Communication and Engagement Lead for the Wholesale Division, Co-Lead of MINT's Inclusion Network, and a member of Dive In's UK planning committee, helped curate Nick Line's event and organized a viewing for MINT employees. "We had a group-viewing session for Nick's event at our London office," she said. "The group was humbled and inspired by the personal story of Dr. Kamel Hothi, OBE. It has prompted a great internal conversation about learning from each other through the power of storytelling."
In the US, employees like Consuelo Adkins-Tyler, Diversity and Inclusion Manager at Markel, served as the chair of a committee that oversaw one of the event's key themes.
"I had the honor of co-chairing the US racial ethnicity and equality content committee with three outstanding individuals in the insurance industry," Consuelo said. "In addition, I was also given the opportunity to host two events, one on allyship and the other on developing and retaining diverse talent."
Consuelo added, "Allyship is important to me, because open and honest dialogue about where we are and how we can grow is necessary in order for us to move forward. These sessions gave participants an opportunity to reflect on what allyship looks like from a racial perspective. Each of us has a role to play in making our workplaces more inclusive and our industry stronger. I hope attendees were inspired to become active allies and use their influence to bring more racially diverse perspectives to the table."
Attending the sessions
Beyond this planning work, over 500 Markel employees across the globe also attended Dive In. Employees took advantage of the festival's virtual platform to join sessions of interest and educate themselves on the event's various themes. "This year, we had employees who were able to be much more focused on the content than in the past, regardless if a session was held in the UK, US, or Bermuda," Trevor said. "This helped increase active participant engagement better than ever before. As just one example, I received some nice follow-ups from my session, with people asking, 'Hey Trevor, can you send me those books and references you mentioned?'"
Molly Ireland, Markel Specialty Director, Product Line, appreciated how Dive In presented a broad view of diversity and featured content and topics that challenged her to think more critically about inclusion and the value of diverse perspectives.
"I met some phenomenal visionaries in the industry who have paved paths for others, and who have offered support and mentorship ever since the conference ended," Molly remarked. "They didn't just give great academic presentations—they also provided resources to learn more and welcomed ongoing engagement."
Based on her experience, Molly encouraged her fellow insurance professionals to attend future Dive In Festivals. "Anyone who wants to build and cultivate an inclusive workplace with more friends, better morale, and improved business metrics will find something of value by attending Dive In," Molly said. "Supporting the dignity and unique value of each person strengthens teams, improves productivity, and brings new opportunities for success in facing our industry's greatest challenges. The sessions I attended left me with a stronger conviction that inclusion is the best and only way to move forward in our industry."
Staying engaged after Dive In
Along with Markel's presence in planning and attending Dive In 2021, Trevor hopes participating employees remain engaged in diversity and inclusion issues and inspire their colleagues to get involved with next year's event. "The experiences from this year's festival reinforced that we have numerous employees actively involved in D&I through their participation and shared insights," he noted. "I view the festival as a platform for learning, sharing, and experiencing; and I hope we're able to leverage our colleagues to bring their creative ideas and talent to future Dive Ins to continue growing Markel's impact and influence on the festival."
Trevor also believes annual participation at Dive In and active engagement are essential for giving Markel employees a better understanding of how Markel is progressing as a global insurance company. "At the end of the day, we want to make sure we're continuously replicating this momentum where we're all involved in D&I at Markel," he said. "There's an opportunity for all of us; and driving diversity and inclusion at Markel does require all of us to be involved."