Tom Baker, Markel's International Head of Renewable Energy, discusses 2021 achievements in the renewable energy market and what's ahead in 2022.
Published on March 24, 2022
---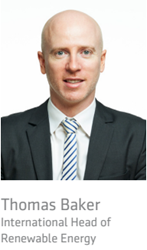 After establishing a renewable energy department in 2020, Markel continues to grow as a market leader in the global renewable energy space. In 2021, the organization hired three renewable energy underwriters to expand its presence and expertise in two international markets (Asia Pacific and London), developed new products for clients, and continued to support the insurance industry's push for carbon neutrality as part of the Paris Climate Agreement.
While Markel progresses in the renewable energy space, COVID-19 remains an obstacle in accelerating market growth across the globe. The pandemic has disrupted the global supply chain, created labor shortages, and postponed renewable energy projects.
Tom Baker, International Head of Renewable Energy at Markel International (MINT), recently discussed the organization's 2021 achievements in the renewable energy market and shared what's ahead for the business in 2022.
Q: What renewable energy trends did you notice in 2021
Tom: Specific to the insurance market, after consecutive years of significant hardening, the renewable energy insurance market experienced only a modest hardening last year. In addition, following COVID-19, more insurers have increased their focus on underwriting ESG-related businesses. This strategic shift has led to an influx of new capacity providers generally related to ESG and specific to renewable energy.
However, severe weather events are increasing and continue to be a significant cause of loss activity. Such events are often occurring in locations that have previously modeled as having either moderate or benign risks, which makes it increasingly challenging for insurers to assess the risks and price accordingly. In addition, quickly evolving technology—whether it's much larger onshore and offshore turbines or battery storage systems—is a challenge not just for Markel, but also for an industry struggling to keep pace with constant change of risk.
Q: Markel International recently hired three renewable energy underwriters. How will these new appointments enhance Markel's presence in the global renewable energy market?
Tom: With the addition of Charlie Richardson, Sarah McCarthy, and Yong Ruay Heah to our London and Asia teams, Markel International has reinforced its commitment to leverage industry expertise to drive growth within the renewable energy space and distinguish Markel from our competitors. Charlie, Sarah, and Yong Ruay collectively have more than 50 years of renewable energy experience, providing Markel International with one of the strongest international teams in this area of business. Their expertise will enhance Markel's risk selection, distribution, and profile with both the broker customers and the direct client.
Over the previous 15 years, Markel has been a prominent renewable energy insurer and a long-time supporter of the renewables industry—predominately as a reinsurer. To support market growth and to greater benefit renewable energy developers, Markel started underwriting open-market renewable energy business from July 2020. We have been strengthening our company's position from being a reinsurer to a direct insurer in the renewable energy space, while continuing to build relationships with new and existing clients.
Q: As businesses reopen and the world continues to adapt to COVID-19, how has the growth trajectory changed for the renewables sector?
Tom: We continue to see the negative effects of COVID-19 on the renewable energy market despite restrictions loosening and several businesses attempting to operate at pre-pandemic levels. Those negative effects include postponed market growth and other economic impacts, such as global supply chain disruptions and unpredictable changes in demand share.
Planned maintenance has also become a top issue, due to a smaller labor force and the imposition of social distancing standards, which are still prevalent in Asia. There have been delays in the production and installation of power equipment for COVID-19, which, in the very short term, hindered some growth of the renewable energy market. However, the overall trend continues to be for consistent and significant growth in capacity additions.
The good news is that the renewable energy market is projected to experience a compound annual growth rate of over 10 percent between 2022 and 2030.
Q: As we start a new year, what are Markel International's key objectives for its renewable energy portfolio?
Tom: For 2022, three objectives come to mind. One goal is to add new and different products to the traditional renewable energy insurance product line, in order to help find solutions to client's problems. We also want to grow this portfolio sustainably and profitably, which has been the key challenge for renewable energy insurers. Finally, we want to work closely with developers to help them build new projects for developing countries, which is a major area of opportunity for us as a business.